Happy Birthday Balloons are quite popular nowadays for every Big or small Birthday Party. It comes in various sizes and colors like Golden, Silver, Rose Gold etc. Also Happy Birthday Balloons price vary from Rs 80 to 150 in different cities. It can be use for Birthday Background decoration with balloons and ribbons.
We are sharing some Popular Happy Birthday Banner ideas to make your party extra special.
Golden Happy Birthday Balloons
Golden Happy Birthday Balloon is the most common and most use Birthday Banner. It is easily available in amazon and Flipkart or any local balloon shops. If you are looking for Black and Golden Birthday Theme or Red and Black Birthday decoration they you can go for this foil balloon.
Price – Rs 80 – 100
Size Available – 16 and 32 inches
Silver Happy Birthday Balloons
Silver Happy Birthday foil Balloons gives very premium look and it is the second most sorted HBD balloons for Birthday Decoration at Home. This foil balloon are Trendy and gives very vibrant look with overall balloon decoration. Best Theme suggested with this Foil is Black and Silver Decoration. For best look you can also use helium gas.
Price – Rs 90 – 110
Size Available – 16 and 32 inches
Rose Gold Happy Birthday Balloons
Price – Rs 120 – 150
Size Available – 16 and 32 inches
Well this is the most beautiful happy birthday balloon from all other foil balloon available in market. Also it is rare in local balloon shop to get. But you can Order it online from Amazon, Flipkart and other party stores. If you're a girl then we will definitely suggest you to go for this birthday decorations. Use this Foil with Rose gold balloons, some heart shape balloons to get the best looks.
Happy Birthday Banner Decorations
If you don't want to go with foil balloons for the Birthday celebration you can use a customized Birthday Banner Backdrop. Event planners can give any look to the entire theme with the Happy birthday Banners. Ideal banner size is 8Ft * 8Ft or 12*10Ft for a normal backdrop decorations at Home or small banquet hall.
Price – Rs 1000-1200
Happy Birthday Buntings Decorations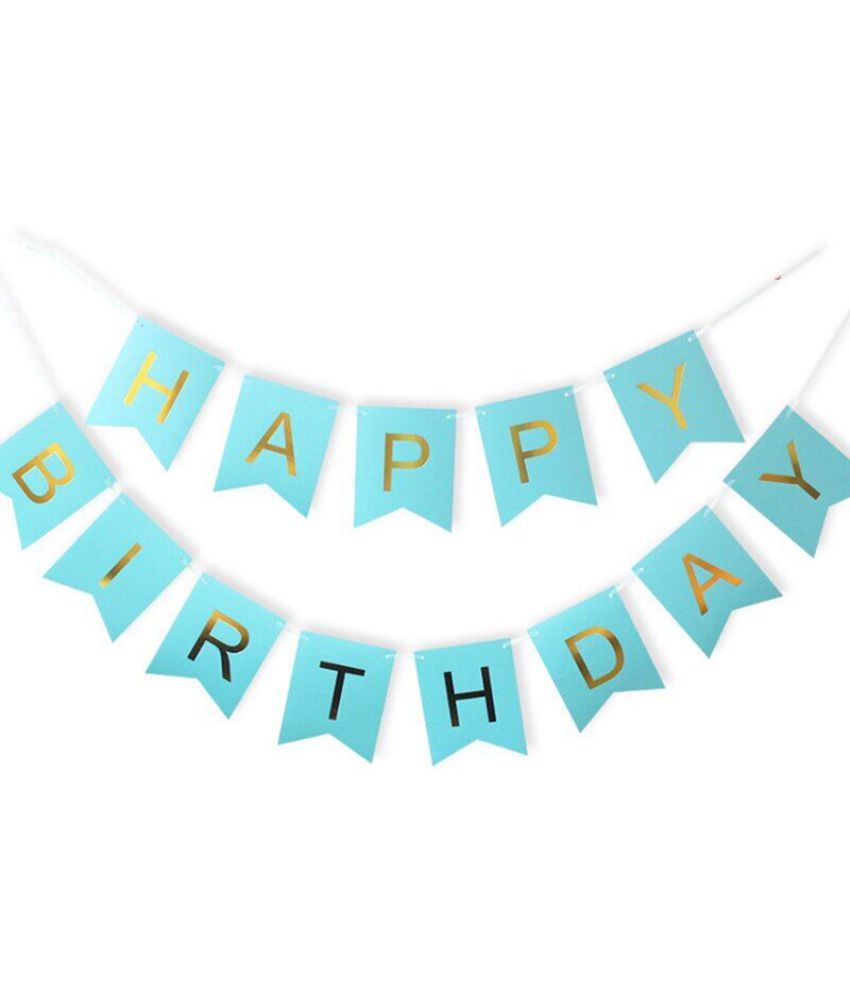 Happy Birthday buntings are the most used Birthday banners. It comes in various size and colors like black, red, white, blue etc. Birthday bunting can be used for any decorations and birthday party. Usually this is used for Kids Birthday party as it can be easily customized with the entire balloon decoration.
Price – Rs 60-100
Conclusions
Keeping the above tips in mind will let you organize a memorable party with the HBD Foil Balloons. 7eventzz helps to plan the best decorations with beautiful ideas in more than 100 cities in India. You can select from 1000s of Birthday Packages on our website in more than 50 categories.