Welcome the newest addition to your family with a joyous baby shower Photoshoot! Capture precious memories that will last a lifetime with our top 10 baby shower photo shoot ideas. From adorable props to heartwarming moments, our photo shoot suggestions will inspire you to preserve the highlights of this special occasion. Celebrate with loved ones as you send out invitations, decorate, and indulge in delicious food and cake. Don't forget to add photography to your to-do list to capture the magic of the moment. Get inspired with our baby shower photo shoot ideas and create cherished memories for the baby to cherish as they grow older.
Selfie Booth for Baby Shower Photoshoot
Transform your baby shower photos into cool and fun memories with a creative idea! Find a ready-made or custom-made social media cutout that matches the occasion. Gather your loved ones around the mom-to-be as she holds the cutout in front of her. Capture the moment with a group pose that includes the cutout, and you'll have a fantastic baby shower Selfie booth or share on social media. For an even cuter touch, consider framing just the baby bump with everyone posing together with the mom-to-be using the cutout. It's a unique and adorable way to capture the joy of the occasion!
Baby Shower Backdrop Decoration with Balloons
A baby shower backdrop decoration with balloons adds a touch of whimsy and festivity to the celebration. Imagine a beautiful array of balloons in different colors, shapes, and sizes arranged to create a stunning backdrop for the mom-to-be. Balloon arch, balloon walls, or balloon bouquets can be used to create a mesmerizing backdrop that sets the perfect stage for capturing precious memories. Whether it's a simple and elegant design or a bold and extravagant display, a balloon backdrop adds a fun and celebratory element to the baby shower, creating a visually appealing and Instagram-worthy setting for the joyous occasion.
Book Baby Shower Decoration on 7eventzz Starting from 999/-
Creative Cutouts – Fun and Unique Baby Shower Photo Ideas
For a fun and unique baby shower theme, consider incorporating movie stars cutouts or props with 'Mom's Day Out' written on them, paying homage to the classic movie 'Baby's Day Out'. These creative cutouts can double as a photo backdrop, creating the perfect setting for capturing selfies and group photos with the mom-to-be. From Kareena kapoor to Alia Bhatt, the possibilities are endless, allowing you to personalize the theme to match your tastes and preferences. So why not have some fun and add a touch of Bollywood glamour to your baby shower photoshoot with this delightful theme!
Framing the Bump – Adorable Baby Shower Photoshoot Poses
A baby bump photograph is a cherished keepsake that captures the beauty and joy of pregnancy. These heartwarming images capture the precious moment when a mother's belly swells with new life, creating a lasting memory of the journey to motherhood. Baby bump photographs for baby shower photoshoot are a wonderful way to document the anticipation and excitement of pregnancy, and they hold a special place in a mother's heart forever. Whether taken by a professional photographer or as a DIY project, baby bump photoshoots are a meaningful and cherished tradition for many expectant mothers, creating treasured memories that will be cherished for a lifetime.
Hardik Pandya and Natasa Stankovic Baby Shower Images
Baby Shower Photoshoot Poses with Friends and Family
For a casual and intimate baby shower photo session, gather your guests around the mom-to-be and capture precious memories in a family-style photoshoot. Choose a suitable backdrop by selecting the best wall at the venue or your home. Make sure the wall has ample lighting and space, and consider adding some photo frames from your wedding to create a sentimental touch. It's a simple yet meaningful way to capture the love and joy of the moment in a relaxed and cozy setting.
Top 5 baby shower photoshoot poses inspired by Bollywood Celebrities
1.Alia Bhatt Baby Shower Photoshoot Images
We will take a closer look at Alia Bhatt's baby shower photoshoot images, capturing the joy, style, and beauty of this memorable event. From stunning decor to heartwarming moments, join us as we explore the world of Alia Bhatt's baby shower through captivating photographs that showcase her special day in all its splendor.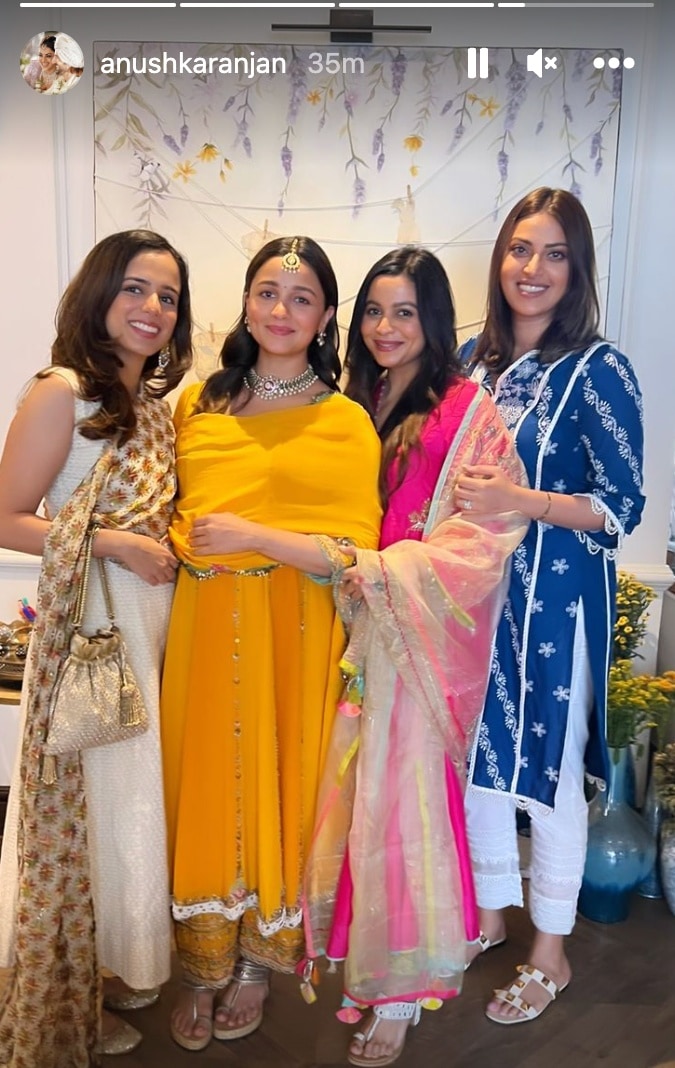 2. Kareena Kapoor Khan Maternity Shoot
Kareena Kapoor Khan, a popular Bollywood actress, proudly displays her baby bump in the photos, exuding grace and style. She is seen wearing a white shirt paired with comfortable pants, accentuating her beautiful baby bump. Completing her look, she wears a black sports bra underneath, adding a touch of sporty chic to her maternity outfit. The photos capture Kareena's radiant glow as she embraces her pregnancy journey with confidence and elegance.
3. Sonam Kapoor Indian Baby shower Shoot
4. Neha Dhupia and Angad Bedi Baby Shower
5. Shahid Kapoor Wife's Mira Rajput's baby Shower
How do you take good baby shower pictures at Home?
Taking good baby shower pictures at home can be done by following a few tips:
Choose a well-lit area: Look for a room or a corner in your home with ample natural light to ensure clear and well-lit photos.
Decorate the space: Set up a backdrop with balloons, streamers, or other decorations to create a festive atmosphere and add visual interest to your photos.
Capture candid moments: Focus on capturing candid moments, such as the mom-to-be's reactions, guest interactions, and heartfelt gestures, to tell the story of the event.
Use props: Incorporate props like baby clothes, ultrasound images, or baby shower-themed items to add depth and meaning to your photos.
Experiment with angles: Try different angles, perspectives, and focal lengths to capture unique and creative shots that showcase the emotions and joy of the occasion.
Edit and enhance: After the photoshoot, use photo editing tools to enhance the brightness, contrast, and colors of your pictures for a polished and professional look. By following these tips, you can capture beautiful baby shower photos at home that will be cherished memories for years to come.
FAQS – Baby Shower Photoshoot in India
1. How much does a baby shower photoshoot cost in India?
Basic baby shower photoshoot in India can start from around INR 5000, but it can go higher depending on the specific requirements and preferences of the parents-to-be. Additional costs may be incurred for professional photography services, props, decorations, makeup, and wardrobe, among other things. It's best to consult with photographers and service providers to get accurate estimates based on your unique needs and preferences.
2. What month should you take a photoshoot for a baby shower?
It's ideal to plan your maternity photo session during your seventh or eighth month of pregnancy when your belly has a beautiful round shape, perfect for capturing stunning photographs. If you're tracking your pregnancy by weeks, scheduling your session around 30 weeks pregnant can be a great time to capture the beauty of your baby bump. This timeframe allows for a prominent and aesthetically pleasing baby bump that will result in breathtaking maternity photos you can cherish for a lifetime.
3. How do you shoot pictures for a baby shower?
o capture an interesting perspective during the baby shower, try shooting from a low position and using a wide-angle zoom setting when the guest of honor is opening a present. This technique can add a unique and creative touch to your photos, showcasing the excitement and joy of the moment from a different angle. Experimenting with different camera angles and settings can result in captivating shots that highlight the emotions and expressions of the mom-to-be as she unwraps a gift, adding depth and creativity to your baby shower photos.
4.What should I wear to my baby shower?
When planning for a baby photoshoot, you can opt for a long gown or a flouncy skirt for a trendy and fashionable look. Alternatively, if you prefer a traditional outfit, you can choose to wear a saree, which adds a touch of cultural elegance to the photoshoot. Whether you want to go for a modern or traditional look, selecting the right attire can enhance the overall aesthetic of the photos, making your baby photoshoot a memorable and stylish experience.